HADO AKB48 HADO Wars Yunamogion VS Nakanishikai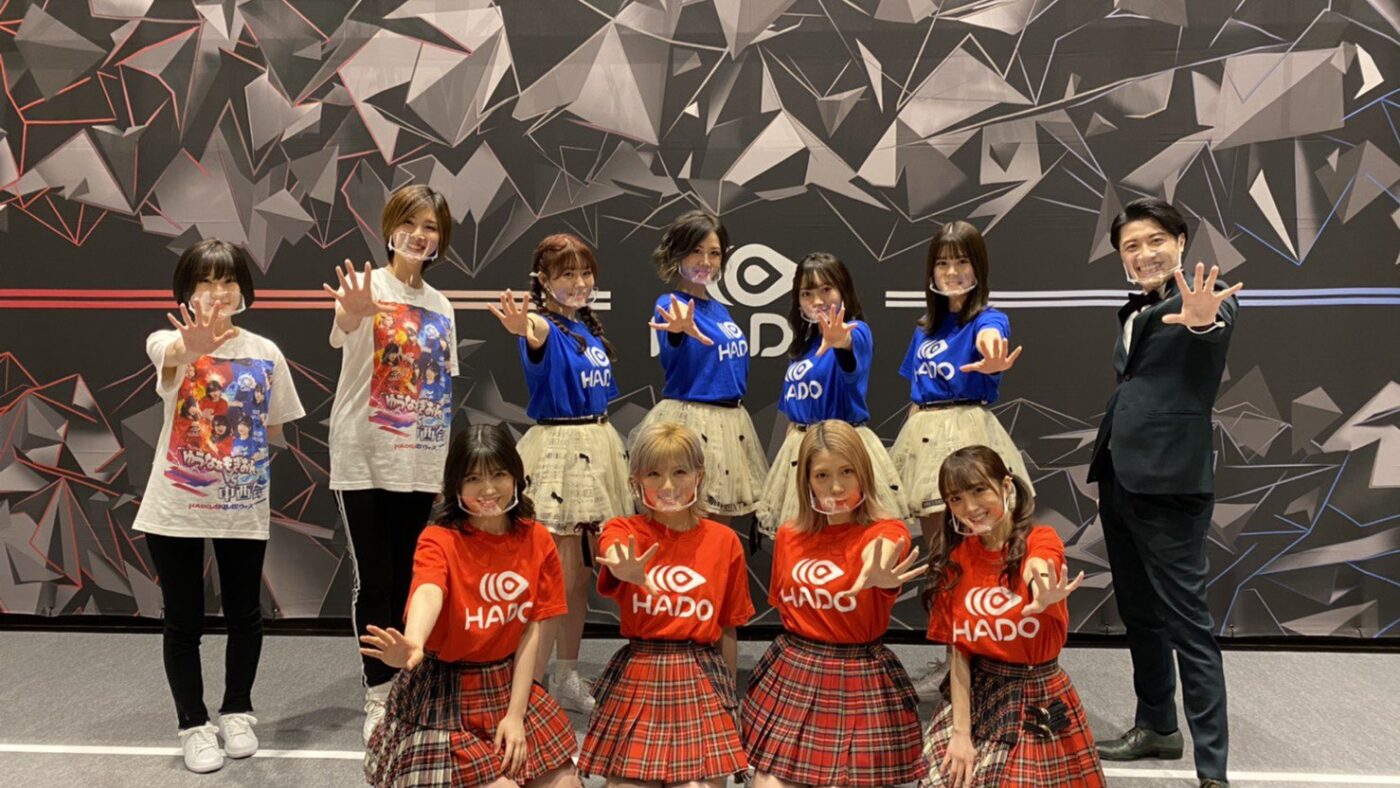 Yunamogion and Nakanishikai faced off in a HADO AKB48 War on Saturday, March 6, 2021. The three-set tournament made up of five matches tested all eight AKB48 idols. Yunamogion and Nakanishikai put their dreams on the line. The only question was who would leave the arena a champion.
About the AKB48 Teams
AKB48 has become a social phenomenon as a group of entertainers and performers since its launch in 2005. The Japanese idol group consists of various teams who perform almost daily earning support for an ever-growing fan base both in Japan and overseas. Even during the COVID-19 pandemic, AKB48 never let its fans down via OUC48 video chat performances.
Yunamogion and Nakanishikai are two AKB48 teams adored by fans both in and outside of Japan. In 2020, both teams of idol entertainers made waves with the launch of their very own YouTube channels. Their videos have treated everyone to a wide range of events and performances.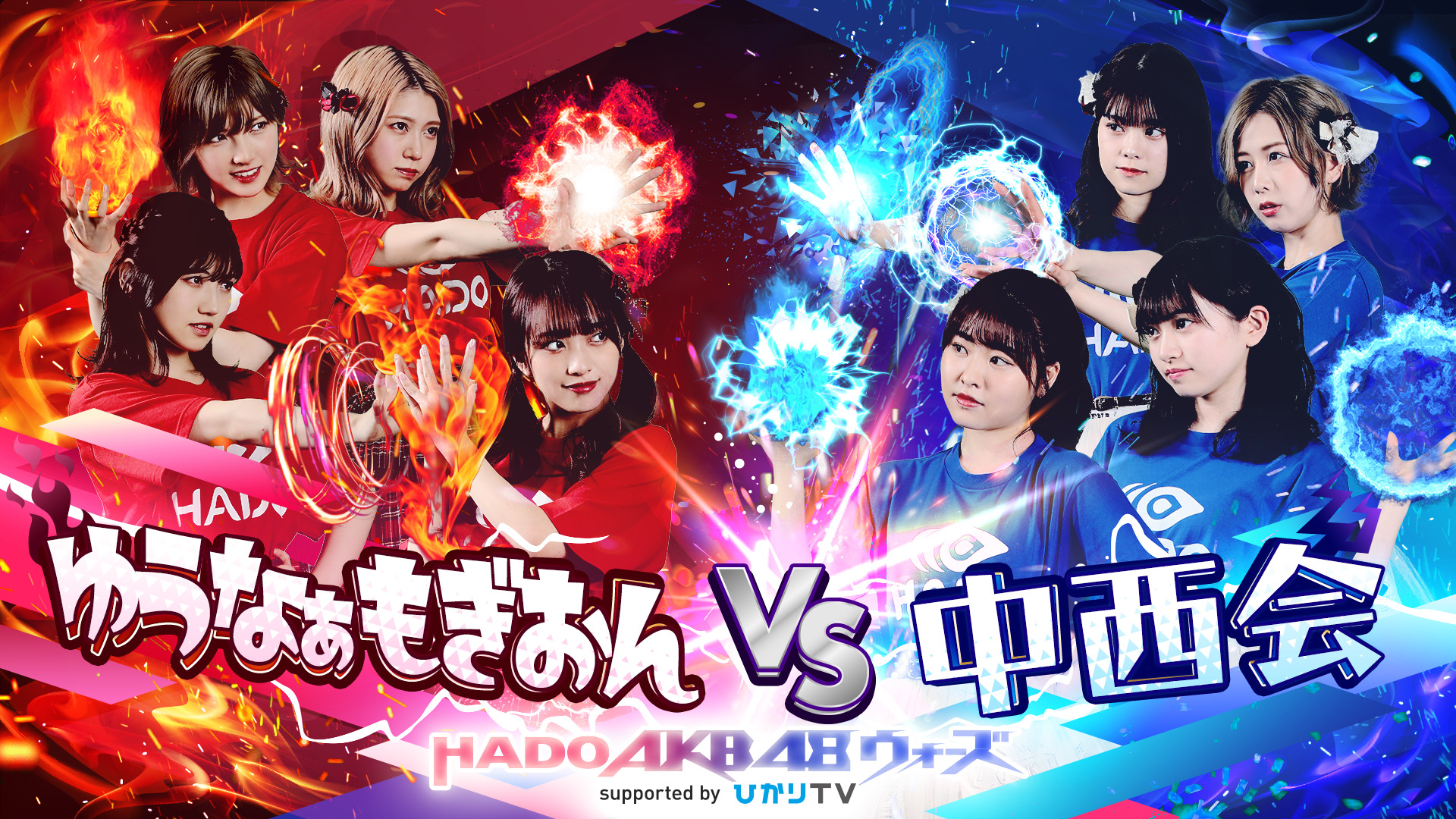 HADO Dreams
HADO Wars was excited to welcome Yunamogion and Nakanishikai to the HADO court for a chance to fulfill their dreams. Both AKB48 teams quickly took to YouTube to discuss the dreams fulfilled by winning this HADO battle.
Yuiri Murayama, Nana Okada, Shinobu Mogi and Mion Mukaichi from Yunamogion all agreed on one thing—whatever they decided to do, they wanted to do together. This included everything from a Korean-style barbecue and double dates at an amusement park to a hot spring get away at a Japanese inn and a group visit to a fortune-teller alongside a temple pilgrimage to ward off bad spirits.
Chiyori Nakanishi, Shizuka Oya, Hinako Okuhara and Nanase Yoshikawa from Nakanishikai let their unique personalities come out. Hinako Okuhara expressed her desire for Nakanishikai trip somewhere. Nanase was hoping for some fun with a new gaming platform for Nakanishikai to play together. Shinobu hoped of an iPhone 12 while Chiyori dreamed of equipment to help Nakanishikai grow their YouTube channel.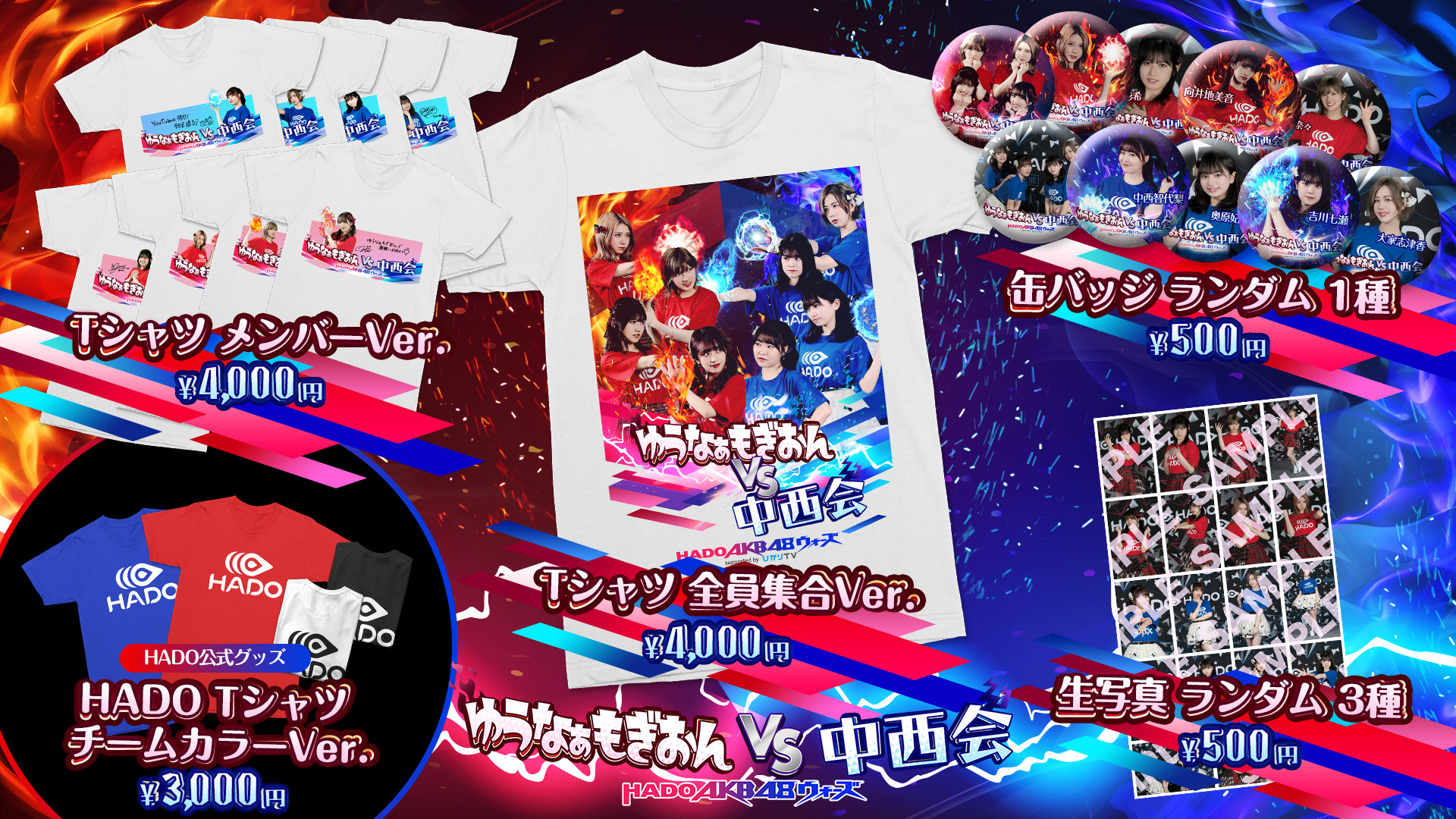 HADO Wars Battle
The HADO Wars battle began even before the event had started. The tournament gave fans the opportunity to have a direct impact on the game through retweets. These cheers ranked each player either gold, silver or bronze. This equated to either ten, nine or eight points for assigning stats to their skill set. Every point offers a huge advantage for bigger, faster and more numerous energy balls or powerful and plentiful shields.
The results proved Yunamogion a force to be reckoned with. Yuiri Murayama and Nana Okada earned gold. Shinobu Mogi and Mion Mukaichi ranked in at silver. This left Nakanishikai with silver and bronze.
These extra skill points paid off for Yunamogion in the first match of the first set. Yuiri Murayama and Nana Okayama took to the HADO court and dominated against Nanase Yoshikawa and Shizuka Oya. Nana Okayama used the extra energy ball speed to score five points in the first set leading to Yunamogion's 7-4 win in the first game. In the second match, Yuiri Murayama showed practice pays off by scoring five points in the second match to win 6-4, giving the first set to Yunamogion.
Before the second set started, Yunamogion and Nakanishikai had another chance to earn an even greater advantage in the second set. Fans on twitter decided to put a member of both teams through a foot pressure point endurance test. Nana Okada tapped out almost immediately while Hinako Okuhara seemed almost unphased at first. This tipped the skill points back in favor of Nakanishikai.
Nakanishikai clearly benefited from this advantage as Chiyori Nakanishi and Nanase Yoshikawa took the court against Shinobu Yogi and Mion Kukaichi. Chiyori Nakanishi capitalized on her balanced skill set in the first match scoring point after point to win 7-1. Nakanishikai had found their stride winning the second match 8-2. With both teams tied at one set each, the tournament was going into one final death match.
Yunamogion and Nakanishikai huddled to determine which players had the best chance to fulfill their dreams. After what seemed to be an eternity, Shinobu Mogi and Nana Okada took the court for Yunamogion and Shizuka Oya and Chiyori Nakanishi for Nakanishikai. With no special advantages, the teams traded points back and forth in the most exciting match of the evening. With only 14 seconds left Nakanishikai had a huge 4-2 lead. Just when everyone thought Yunamogion was done for, Nana Okada exceled under the pressure destroying life cells left and right. Shinobu also found an opening and scored as well. This tremendous comeback left the teams tied with only four seconds left. Nana Okada found one last opening to a final point that took Yunamogion to a 5-4 win. The winners celebrated. Tearful the losers reached into a box of nightmares, drew cards, and revealed a little more about each of themselves.
This is one of many more HADO events to come with collaboration between Japanese idols and techno sports. The future of sports is continually expanding to offer players as well as fans a way to get in on the game. Make sure to check in regularly as there is so much more to come and so many new ways for you to get in on the action.
---