Teams from Japan Idol AKB48 face off at HADO League to be aired on TV Show!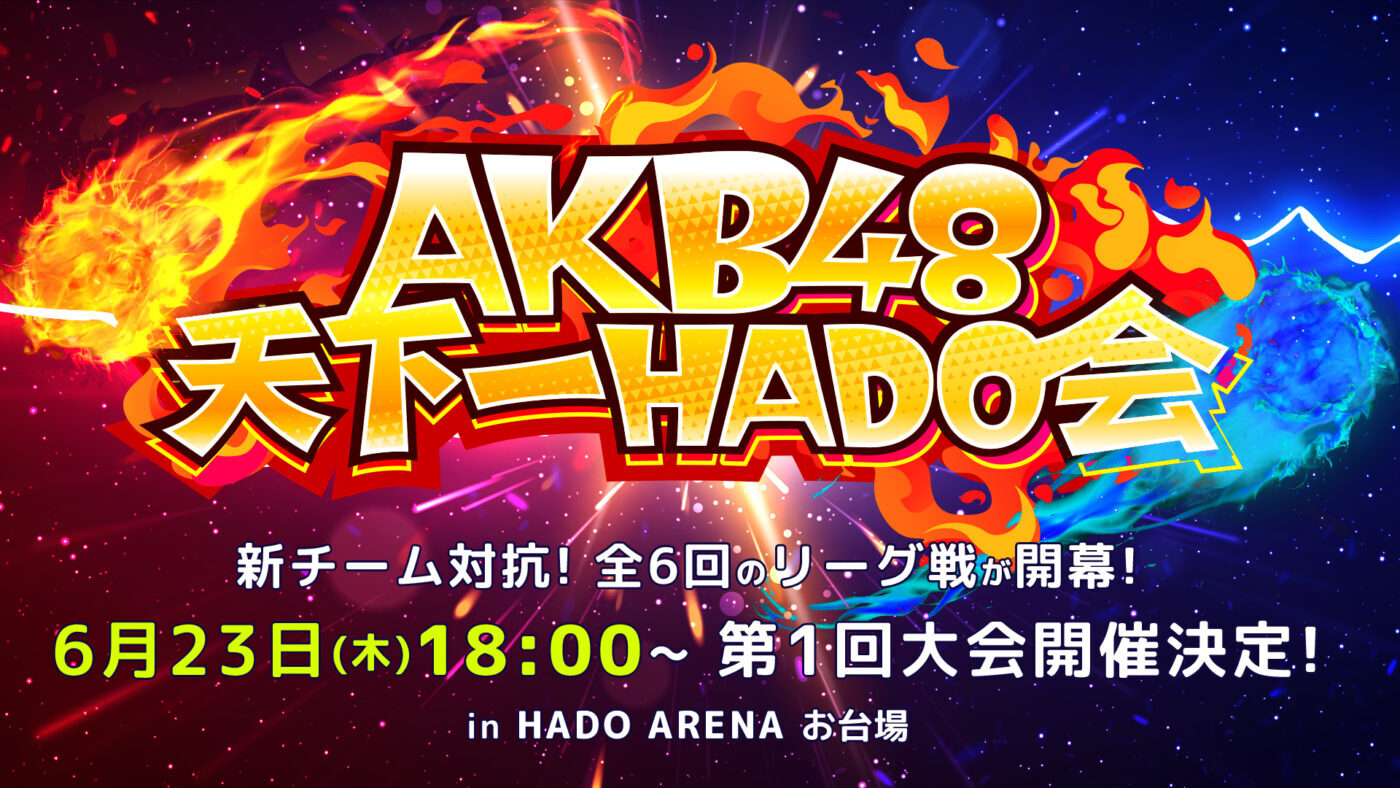 TV Tokyo, one of the major Tokyo-based terrestrial stations, will launch a new TV program named "AKB48, Saikin […]
TV Tokyo, one of the major Tokyo-based terrestrial stations, will launch a new TV program named "AKB48, Saikin Kiita Kamo? (AKB48, maybe you've heard about us lately?)", featuring the Japan's leading idol group AKB48 to captivate everyone with AR sports in the HADO league as team competitions exclusively played by the idols!
The first match-ups will take place on Thursday, June 23, in the name of "AKB48 Tenkaichi HADO Kai", and a total of six events will be held over the next three months.
The techno sport event makes fans part of the games by giving them the opportunities to have a direct impact on the competitions. Fans watching the games online can show their support by cheering to the players via the Wow Live app., while visitors to the tournament can be given benefits such as a chance for shooting photos of their favorite idols at the beginning of the event, or a warm goodbye with "HADO Outare-Kai (HADO shooting party)" by them at the end.
This is one of many more HADO events to come with collaboration between Japanese idols and techno sports. The futuristic sport is continually expanding to offer fans to get in on the game.
Overview of the Event
・Name: AKB48 Tenkaichi HADO Kai
・Period: A total of six events, starting on Thursday, June 23, and ending in September
・Venue: HADO ARENA Odaiba, Tokyo
・Entry Fee: 8,500 yen (including one free soft drink and special benefits)
・Streaming: Wow Live app. (free to watch)
・Format: Four of the idol teams, A, K, B, & 4, will battle it out on the court in a tournament at each event,
and the winner is determined by the total points of all six tournaments they accumulate.
▶The champions will celebrate the victory with a "lavish gift" they have requested
▶The event will hold a special exhibition match competed by the 17th generation idol trainees
▶Hashtag: #AKB48天下一HADO会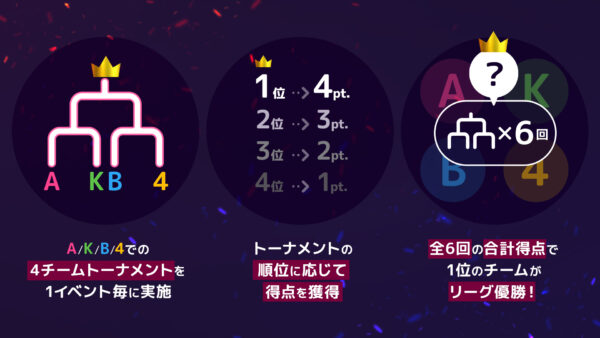 1st event
Date: Thursday, June 23
Open: 17:00-
Start: 18:00-
Ticket Purchase: Start at 12:00 on Wednesday, June 8, and End at 12:00 on Friday, June 10
Where to Buy: AKB Group Ticket Center
https://ticket.akb48-group.com/home/detail_live_concert.php?live=C220623180001
How to Watch and Cheer On/Offline
1.Cheer on your favorite teams via the Wow Live
Your cheers allocated via the Wow Live app. give an impact on players' offensive and defensive gameplay in the tournament to upgrade their skill set such as the energy ball size or speed to the shield stock.
Wow Live Link to Download:
iOS: https://apps.apple.com/jp/app/wow-live/id1526782635
android OS: https://play.google.com/store/apps/details?id=com.meleap.wowlive
2.Cheer at the Venue
The event will hold a vote that only visitors can participate in for their favorite idols to show their support by giving cheers to players for skill set upgrades in the games.
About the New TV Show, "AKB48, Saikin Kiita Kamo?"
The league will be aired on TV Tokyo's new program, " AKB48, Saikin Kiita Kamo?" (1:35 – 2:05 a.m. on every Tuesday) that starts on Tuesday, July 12.
What is HADO?
HADO is a next-generation's sport that combines Augmented Reality (AR) technology through a head-mounted display and arm sensor on a real-world court where players can freely run to compete. Three-player teams leverage their skills by firing energy balls and placing shields to accumulate points in an 80-second match. Up until now, the AR sport has been played by a total of more than 2.1 million players at 109 sites in 39 countries worldwide, including Asia, North America, South America, Europe, the Middle-East, and Africa.
HADO Official Website:  https://hado-official.com/