meleap inc. Closed a Cumulative Total of 2.2B JPY Fundraising for Global Expansion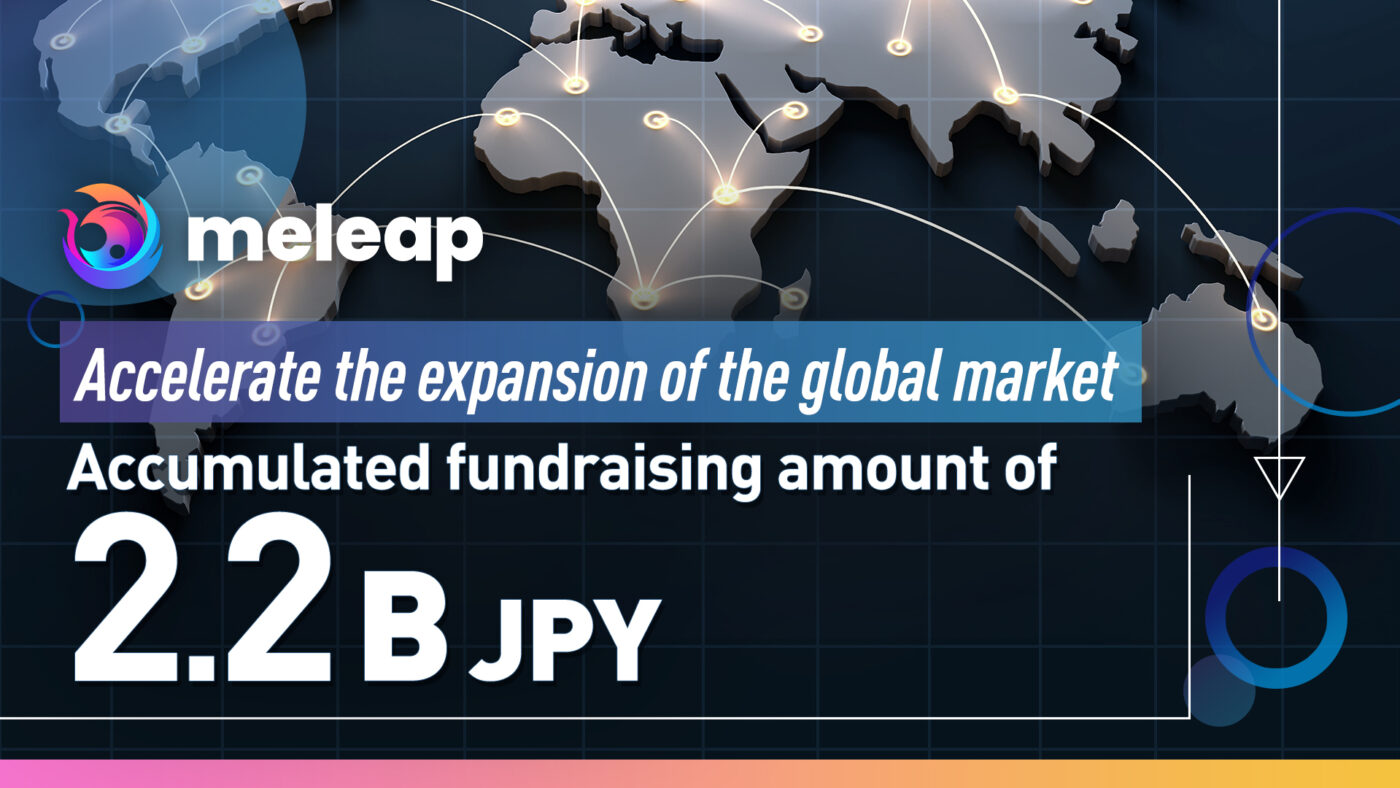 meleap inc. (head office: Minato-ku, Tokyo; CEO: Hiroshi Fukuda; hereinafter "meleap"), a company expanding HADO as an AR sports platform across 39 nations worldwide, has successfully raised 510M JPY from QC Investment (head office: Shanghai, China; CEO: Kan Jiaming), a private equity fund managing CN¥3 billion (approx. 6.11B JPY) and other Japanese investors. This round brings the cumulative total investment in meleap to 2.2B JPY.
■ Current Round Investors (In No Particular Order)
QC Investment, Ltd.
Incubate Fund K.K.
HoriPro Group Holdings, Inc.
Kiraboshi Capital Co., Ltd.
Waki Planning K.K.
CiP I Fund
■ Fundraising Background and Future Objectives
meleap has been expanding HADO as an AR sports platform with the vision to give hopes and dreams to the world through the two following business segments:
① Location-based Entertainment Segment
The location-based entertainment segment provides HADO sports facilities and events. meleap currently operates 109 permanent franchises in 39 countries around the world where a total of 3.5 million people have played HADO. This segment has also grown the number of viewers base to more than 100 million households. In 2022, meleap opened HADO ARENA Odaiba as a new global flagship store, which can host events with up to 230 spectators. meleap is even broadening its lineup of schools and other AR sports training facilities.
② Live entertainment Segment
The live entertainment segment consists of the HADO league launched with celebrity athletes in 2020. Every spectator can take advantage of the proprietary Wow Live app developed and run as a dedicated spectator system. This app lets spectators cheer on their favorite players to give them access to points that will strengthen their AR attributes. meleap offers greater value in this segment by enhancing the sports fan experience as a service for online and in-person events. Idols, actors, actresses, and other celebrities have been joining HADO as players, which has propelled the sales growth rate 750% from the first quarter of 2021 to the second quarter of 2022.
The funds raised in this round of investments will further drive growth in the following areas:
・Further expansion of AR sports worldwide
・Marketing of the celebrity league
・Strong recruitment of human capital
■ meleap and Investor Remarks
Hiroshi Fukuda, Founder/CEO, meleap inc.
At meleap, our global business expansion strives to give hopes and dreams to the world. The support of partner companies worldwide supporting us in this mission is realizing the development of a business. I'm absolutely overjoyed investors not only in Japan but also oversees see the value in AR sports. Our current fundraising efforts in China and the rest of the world will emphasize further global expansion. Sports have tremendous power. I believe everyone can expect AR sports to embody powerful and captivating stories that will make us all shake in the knees.
Kan Jiaming, CEO, QC Investment, Ltd.
HADO AR sports requires an extremely high level of aerobic endurance, intuition, and spatial perception. At the same time, young generations are fascinated by the AR technology. The AR sports market is enormous. HADO is backed by a proven global track record with three world cups, two European cups, and five Japan cups. The COVID-19 pandemic could not even stop the evolution and growth of HADO as a new sport. I hope HADO will also solidify an AR sports foothold in China, which may soon be the stage for the next HADO World Cup. HADO has only scratched the surface of the AR sports potential. I'm confident the future will give way to numerous other AR sports competitions. Please look forward even more.
Keisuke Wada, General Partner, Incubate Fund KK
I believe in the potential of technology and sports. The drive and sensibility of a revolutionary concept striving to give hopes and dreams to the world demonstrates the immeasurable ambition of HADO as a sport. This investment shows our commitment to join meleap on the journey toward further global expansion. Together, I know we can step up to the challenge of creating a new culture around techno sports to deliver awe-inspiring services to people in every corner of the globe.
Yoshitaka Hori, President & CEO, HoriPro Group Holdings Inc.
Our company first entered into a capital alliance with meleap inc. in November last year. Since then, HoriPro and meleap have worked hand in hand to drive the popularity of HADO as a sport. This not only includes wide-ranging planning and management of various competitive events, such as the HADO HoriPro Cup in which our talent competed, but also the planning and production of television and other programs.
Our additional investment in this round will strengthen the partnership between HoriPro and meleap to bring the fun HADO experience to everyone, regardless of gender, age, or even nationality. As a multifaceted entertainment company, HoriPro Group Holdings will also continue to promote new efforts in the pursuit of our mutual goal to make HADO the world's largest sport.
Masaaki Kanegami, Director, Kiraboshi Capital Co., Ltd
As the entertainment industry shifts online and moves toward extended realities (XR), HADO has crossed the world as the techno sport launched in Japan. It has even quickly proven the product-market fit (PMF) as a platform connecting idols with fans. My team and I have seen the excitement of HADO first hand. Our investment illustrates the confidence that we have in meleap's growth. I expect HADO will realize its spectacular vision as a venture in Japan becoming the biggest integrated XR and real entertainment format in the world.
Hatsuna Yanase, Director, Waki Planning
The new future of sports is the integration of real and digital worlds. We decided to take a chance on this investment to share Japanese technology and ideas with the world. I am sure HADO will become recognized the world over as the number one AR sport.
Ichiya Nakmura, Chairman of the Board, Content Innovation Program
The Content Innovation Program (CiP) is a project to support research and development, human resource development, and business startups through industry-academia partnerships. Superhuman sports is one of our projects that reinvents sports with modern technologies. Since its inception, HADO has continued to persevere as an aggressive activity and certified superhuman sport competition while establishing itself as the major driving force creating the superhuman sports industry. That is why we have decided to invest in meleap inc. through the CiP I Fund. I hope our partnership with meleap inc. will work to accomplish our mutual goal of cultivating a new sports culture.
■ meleap inc. Profile
Name: meleap inc.
Address: Odaiba 5F, 1-7-1 Daiba, Minato-ku, Tokyo 135-8707 JAPAN
Established: January 2014
Business: AR sports and entertainment
■ Contact:
meleap inc.: Yukiharu Tomita
E-mail: [email protected]